by Julia Cohen Sebastien
Blended families. Single parent households. Multigenerational households. Single person households.  Today's families come in varied and unique shapes and sizes. However, the outdated notion of a two-parent household with biological children still looms large in our collective imagination — and impacts everything from our social expectations to our workplace benefits.
Working Americans with families that don't fit the traditional mold are often put in the position of trying to get help from systems that weren't created with them in mind. Consequently, many don't receive the assistance they need, leading to reduced work productivity or disengagement. In fact, 73% of employees also juggle caregiving duties at home, putting them at higher risk of leaving the workforce altogether.
To genuinely support today's employees, it's essential to understand and embrace the rich tapestry of modern family structures. Let's begin by taking a closer look at what this diversity entails.
Changing family structures
Our family structures have undergone a profound transformation since the 1970s. Back then, more than two-thirds of Americans between the ages of 25 and 49 lived in so-called traditional nuclear family units, with a spouse and one or more children. Today, only about a third of Americans live in households structured this way. Instead, other living arrangements have become more common. For example, among 25- to 49-year-old Americans, 21% are married without children while 6% are raising kids solo.
The number of multigenerational households is on the rise too, with 18% of Americans living in such arrangements today. This means many American workers care for other adult family members. A remarkable 19% of adults, for example, serve as unpaid caregivers for elders. In fact, 23% of American adults are part of the "sandwich generation," responsible for providing care to both young kids and aging parents. These data points highlight a substantial portion of Americans workers taking on a range of family care roles.
The growing strain on employee caregivers
At the same time, we are witnessing a growth in older populations; in fact, older people are projected to outnumber children by 2034. Alongside this we'll also see a rise in chronic illnesses and conditions that require specialized care, such as cancer, dementia, and kidney disease. Mental health needs are escalating, especially among children and young adults, as are diagnoses of neurodivergent conditions, with 1 in 36 American children estimated to have autism spectrum disorder, for example.
Three out of four American workers already shoulder some form of caregiving responsibility. These health challenges introduce an added layer of intricacy to the caregiving landscape. Often, these responsibilities are complex; an employee may be raising children with special needs while simultaneously caring for a parent with dementia or balancing their own care needs. This kind of multifaceted caregiving role is emotionally taxing and time-consuming, placing an immense challenge on those involved.
Fewer community and social care resources
Unfortunately, today's employees have not only greater individual caregiving responsibilities but also fewer community resources to draw from. For one, many Americans today don't live near their relatives. As people increasingly move for work or personal reasons, families find themselves spread out geographically, making it harder to rely on traditional support systems. This can lead to feelings of isolation for caregivers, particularly when dealing with the logistical hurdles of long distances or confined living spaces.
Add to this strain the rising cost of healthcare and non-medical support services (such as care facilities, home-based senior care, and child care), as well as ongoing Medicaid disenrollments. Escalating expenses within the healthcare system place an extra burden on families, while a shortage of medical professionals pushes more family members to step into the role of primary caregivers at home, a care delivery model sometimes referred to as "hospital at home."
Outdated approaches to family care
Employers have made efforts to bridge the caregiving gap by providing various benefits to employees such as Employee Assistance Programs (EAPs), backup care services, and care provider support groups. However, despite their good intentions, the current approach to family care benefits falls short of adequately addressing the evolving needs of today's families.
One significant shortcoming of existing family care benefits is their failure to comprehensively address the varied needs of diverse, modern families. The current approach to benefits typically covers only a portion of caregivers' requirements, focusing primarily on childcare or senior care, while overlooking other essential aspects such as emotional support, financial and legal assistance, logistical coordination, and social determinants of health. Family care is often multidimensional—such as both the logistical and emotional needs after a woman experiences a miscarriage, or an employee with a father whose cognitive health is declining while she's navigating a divorce at the same time. Limited family care coverage can leave employees like this grappling with unmet needs, contributing to feelings of stress and burnout.
Furthermore, beyond back-up care, support can often be difficult to access. Caregivers may encounter bureaucratic hurdles, lengthy approval processes, or a lack of user-friendly tools and resources. These challenges can create frustration and delay access to much-needed support, ultimately exacerbating caregiver burnout and increasing the risk of depression—as well as attrition and poor medical outcomes for both caregivers and care recipients alike.
A new definition of family care
Clearly, there's an urgent need to redefine family care with an eye on how families are evolving and the world is changing. Employers have a significant role to play in this transformation. They need to offer benefits that truly address the needs of today's diverse families, no matter their shape or size. These benefits should remove barriers to care, easing the challenges that caregivers face.
Our approach to family care needs a shake-up because modern families are more varied than ever. We must acknowledge different family structures, a wide range of caregiving needs, and evolving cultural and societal shifts. By doing this, we're not just looking out for our employees' well-being. We're also boosting productivity and creating an inclusive and supportive workplace.
In Part 2 of this series, we'll look at what a truly comprehensive family care approach should include to provide the full support modern families need—and to thrive both inside and outside of the workplace.
Read Part 2 of this series here.
Julia Cohen Sebastien is the Co-founder and CEO of Grayce. Follow her for the latest insights on how care is changing the future of work here.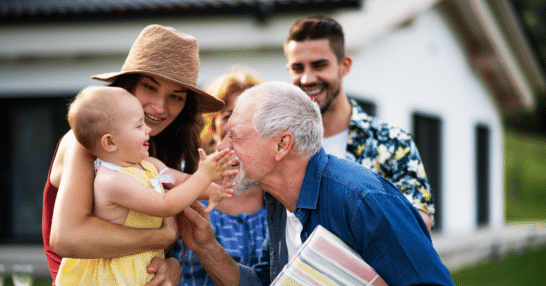 Whitepaper
Whitepaper: Building a Caring Culture
A framework and tactical approach for progressive organizations to act.